My sweet Libby turned seven today. That's 49 in human years! (But according to
this
, her real age is only 32. Yes, I'm a compulsive test taker.)
There's a Chinese saying that goes something like this "a girl goes through eighteen changes before she becomes a woman" (女大十八变). I kowtow to this because it so accurately applies not only girls, but girl dogs also.

This was Libby at the tender age of 8 weeks, waiting for her vaccination shots at the vet's office. She came home with us on that day and we nicknamed her "FeiFei," which means chubby in Chinese (肥肥).

She outgrew her chubbiness and cuteness at an astonishing speed and became a gangly teenager who seemed all legs, with no meat on her bones. She stayed skinny for two more years, even after coming to Japan with us (we got her while living in Singapore).




Thank goodness she realized pretty soon that she needed to grow more fur to combat Tokyo's cold winter and was soon sporting some serious fluff, especially in the nether regions. I thought the new furrier look suits her immensely and she can finally be called a beauty. Or is her beauty only in the eyes of one doting owner?

Well, regardless of what she looks like, we still think the world of her, and here's to another seven years of swimming



snow eating



Frisbee catching



Sunbathing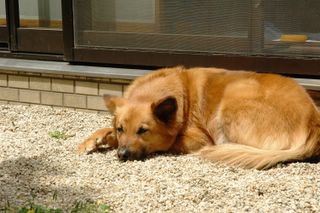 Rolling



socializing, singing, cat chasing, and just being a really cool dog!