There is a famous Gingko Boulevard near my house. It is a big deal every autumn when the leaves turn golden and people from all over the country come to see the less than 500m of street, which is closed for foot traffic only on weekends. People "Oooh" and "Aaaah" over how beautiful the sunrays play off the leaves so they appear almost transparent; kids pick up bunches of fan-shaped leaves from the ground; old ladies collect gingko nuts that have fallen off the tree; and everyone is toting a camera.
Since this is our third year living in the area, Jason has long lost interest in this crowded event so I went alone with Libby last Sunday. While most people crowded on the four-lane street, I know that the best colors are found on the sidewalks, where the trees have more even colors and the pavement is painted yellow by fallen leaves.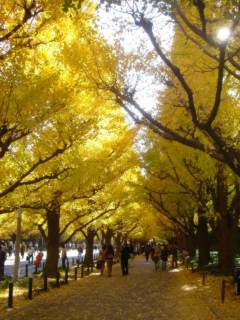 Although I do enjoy the colors and am thankful that I live so close to an autumn-color landmark so I don't have to fight traffic just to see some gingko tree turn yellow, it never fails to amaze me how exaggerating some of the Japanese can be. Every year, I can always overhear someone gushing, "Nihon de umarete yokatta!" (It's so great to have been born in Japan) I rolled my eyes the first time I heard it and I still do it every time I hear it uttered. That said, I do appreciate the nice gingko trees and will probably miss it when I leave Japan.